S. Adamopoulos
/ Cardiologist, Director of Heart Failure & Transplantations Unit, Onassis Cardiac Surgery Centre, Athens, Greece
D. Alexopoulos
/ Professor of Cardiology, National and Capodistrian University of Athens, Greece Attikon Hospital
E. Anagnostou
/ Cardiologist, Thessaloniki
V. Androutsopoulou
/ MD, PhD, Cardiac Surgeon ,Associate Director 4th Cardiac Surgery Clinic, Hygeia Hospital ,Athens
D. Angouras
/ MD, FETCS, Associate Professor of Cardiac Surgery, National and Kapodistrian University of Athens
C. Arampatzis
/ MD, PhD, FESC Interventional Cardiologist, Interbalkan Medical Centre, Thessaloniki
M. Argiriou
/ Cardiac Surgeon, Cardiothoracic Department, Evangelismos Hospital, Athens
G. Athanassopoulos
/ MD, FESC, Deputy Director, Cardiology Department, Onassis Cardiac Surgery Center, Athens, Visiting Professor of Cardiology, University of Belgrade
K. Aznaouridis
/ Consultant Interventional Cardiologist, 1st Department of Cardiology, Hippokration Ηospital, Athens Medical School, Greece
N. Baikoussis
/ Cardiac Surgeon, MD,MSc, PhD. Ippokrateio General Hospital of Athens
K. Bellos
/ MD, PhD, Cardiac Surgeon, Associate Director, 3rd Cardiac Surgery Clinic, , HYGEIA Hospital, Athens
G. Bompotis
/ Interventional Cardiologist, Director, Cardiology Department, General Hospital Papageorgiou, Thessaloniki, President of the Cardiological Society of Northern Greece
N. Bouboulis
/ MD, MSc, PhD, FETCS, Cardiac Surgeon, Deputy Director, 2nd Cardiac Surgery Dept, HYGEIA, Athens
A. Chalapas
/ Cardiologist, A. Director, Transcatheter Heart Valves Department, HYGEIA Hospital, Athens
I. Chlorogiannis
/ MD, PhD, Cardiac Surgeon, Director of Cardiac Surgery Dept., Euroclinic of Athens
M. Chrissoheris
/ Cardiologist, Associate Director, Transcatheter Heart Valves Department, HYGEIA Hospital, Athens
C. Chrysohoou
/ MD, Cardiologist, Heart Failure Unit, 1st Cardiology Clinic University of Athens, Hippokration General, Hospital, Athens
A. Dagre
/ MD, PhD, FESC, FSCAI, Interventional Cardiologist, Consultant, Cardiology Department, "Thriasio" General Hospital of Elefsina, Athens
D. Damaskos
/ Interventional Cardiologist
G. Dangas
/ MSCAI, FESC, FACC, Professor of Cardiology & Vascular Surgery, Icahn School of Medicine at Mount Sinai, New York, USA, Professor of Cardiology, Athens Medical School, Athens University, Trustee, American College of Cardiology
P. Dardas
/ MD, FESC, Interventional Cardiologist, Director, Cardiovascular Laboratory, St. Luke's Hospital, Thessaloniki
P. Dedeilias
/ Cardiac Surgeon, Consultant of Cardiovascular and Thoracic Surgery Dept, Evaggelismos GH, Athens, Greece
A. Dimas
/ Cardiologist, Director, Catheterization Laboratory & Interventional Cardiology, HYGEIA, Athens
K. Dimitriadis
/ Cardiologist, Consultant, Cardiology Department, Hippokration GH, Athens
G. Filippatos
/ Professor of Cardiology, University of Athens, President of Heart Failure Association, Athens, Greece
S. Foussas
/ MD, FESC, FACC, A.Professor of Cardiology, Coordinator Director, Cardiology Departpent, Tzaneio General Hospital, Piraeus, Former President of HCS,Coordinator of cardiac Sector, METROPOLITAN GENERAL Athens
N. Georgakopoulos
/ Cardiologist, Associate Director, 2nd Cardiology Dept, HYGEIA, Athens
G. Giamouzis
/ Assistant Professor of Cardiology, University of Thessaly, Cardiology Clinic, University General Hospital of Larisa
I. Goudevenos
/ Professor of Cardiology, University of Ioannina, President of the Hellenic Society of Cardiology, Greece
G. Hahalis
/ Professor of Cardiology, University of Patras, Director. Cardiology Department, University General Hospital of Patras
A. Holzamer
/ Cardiac Surgeon, University of Regensburg, Germany
J. Iakovou
/ Interventional Cardiologist, Associate Director, Hemodynamic Studies & Interventional Cardiology Department, Onassis Cardiac Surgery Center, Athens
I. Ikonomidis
/ Associate Professor, 2nd Cardiology Clinic of National and Kapodistrian University of Athens, Medical School, General University Hospital "Attikon", Athens
D. Iliopoulos
/ Assistant Professor of Surgery, University of Athens, Director of 4th Cardiac Surgery Clinic, HYGEIA, Athens
N. Kadoglou
/ Cardiologist, Metropolitan Hospital, University of Oxford, UK
N. Kafkas
/ MD, PhD, FESC Interventional Cardiologist, Chairman of Cardiology Department and Director Interventional Cardiology Division General Hospital KAT, Athens
P. Kalyvas
/ Cardiologist, Deputy Head of the Cardiology Department, Metropolitan Hospital, Athens
J. Kanakakis
/ Cardiologist, Director, Cardiology Dept, Alexandra General Hospital, Athens, Vice President (Elected President), Hellenic Society of Cardiology, Greece
S. Kapadia
/ MD, Interventional Cardiologist, Cleveland Clinic Department of Cardiovascular Medicine, Cleveland, Ohio, USA
S. Kar
/ MD, Interventional Cardiologist, Cedars-Sinai Medical Center, UCLA Medical Cente
S. Karagiannis
/ Director of Echocardiology Dept, Athens Medical Center, Athens
G. Karatasakis
/ Cardiologist, Deputy Director, Cardiology Department, Onassis Cardiac Surgery Center, Athens
A. Kartapanis
/ CEO, HYGEIA & MITERA, Athens
M. Kasel
/ Consultant, Structural Heart Team, Department of Cardiovascular Diseases, German Heart Center
A. Katsaros
/ Cardiologist, Registrar, Cardiac Surgery Dept, Hippokration GH, Athens
G. Katsimagklis
/ Interventional Cardiologist, Director of 1st Cardiology Department & Cardiovascular Laboratory, Naval Hospital of Athens
D. Ketikoglou
/ MD, PhD, FESC, Cardiologist, Director Coronary Care Unit & Echocardiography, Interbalkan European Medical Center, Thessaloniki
J. Kisslo
/ Prof. of Medicine, School of Medicine, Duke University, Raleigh-Durham, North Carolina Area
N. Kleiman
/ MD, Lois and Carl Davis Centennial Chair, DeBakey Heart & Vascular CenterProfessor of Cardiology, Institute for Academic Medicine, Full Clinical Member, Research Institute Program Director, Interventional Cardiology Residency, Department of Cardiology Houston Methodist, Weill Cornell Medical College
D. Klettas
/ Cardiovascular Imaging, NHS Cardiology Consultant, GH "Hippokrateion", Athens
S. Kodali
/ MD, FACC, Director, Structural Heart & Valve Center, Columbia University Medical Center, New York, USA
S. Konstantinidis
/ Cardiologist, Director of 2nd Cardiology Clinic, Coordinator of Cardiology Sector, Vice Chairman of the Scientific Council, HYGEIA HospitalAthens
C. Kotoulas
/ MSc, PhD, FETCS, FCCP, Cardiac Surgeon, Deputy Director, Cardiac Surgery Dept of Hellenic Armed Forces, 401 Army General Hospital of Athens president of the Hellenic Society of thoracic and cardiovascular surgeons
S. Kounas
/ Cardiologist, Director of Echocardiography Dept, IASO General, Athens, Greece
N. Koutsogiannis
/ Director Csrdiological Clinic, University Hospital Rio, Patra
S. Kyrzopoulos
/ Cardiologist, Cardiology Department, Onassis CSC, Athens, Greece
F. Maisano
/ Professor in cardiovascular Surgery , University Hospital of Zurich - Zurich, Switzerland
G. Makos
/ Cardiac Surgeon, Director, Cardiothoracic Surgery Dept, Metropolitan Hospital, Athens
S. Makrigiannis
/ MD, PhD, FESC Interventional Cardiologist HYGEIA Hospital
A. Manginas
/ MD, FESC, FACC, Cardiologist, Director, Dept of Cardiology and Interventional Cardiology, Mediterraneo GH, Athens
A. Manolis
/ Professor of Cardiology, 1st & 3rd Cardiology Departments, Athens University, School of Medicine, Athens
V. Martzaklis
/ Sr Global Tech Lead TMVR-TAVR, Medtronic
R. Mehran
/ Professor of Cardiology and Population Health and Policy, Director of Interventional Cardiovascular Research and Clinical Trials, Icahn School of Medicine at The Mount Sinai Hospital, New York, USA
L. Michalis
/ Professor of Cardiology, University of Ioannina, Director, 2nd Cardiology Department, University General Hospital of Ioannina
F. Mitropoulos
/ Cardiac Surgeon, Deputy Director, Pediatric Cardiac Surgery and Congenital Heart Disease, Mitera Hospital, Athens
C. Moldovan
/ Cardiologist, Ippokrateio GH, Athens
C. Mourmouris
/ Consultant Radiologist, CT and MRI Department, HYGEIA, Athens
G. Moustogiannis
/ Cardiologist, HYGEIA, Athens
P. Nihoyannopoulos
/ MD, FRCP, FACC, FESC, FACC, FAHA, Professor of Cardiology, Imperial College London, NHLI, Hammersmith Hospital, London, UK and National and Kapodistrian University of Athens, 1st Cardiology Clinic, "Hippokrateion" General Hospital of Athens
D. Nikas
/ MD, PhD, FESC, Interventional Cardiologist, Cardiology Clinic, Ioannina University Hospital
V. Ninios
/ Interventional Cardiologist, Director of Second Department of Cardiology, Interbalkan Medical Center, Thessaloniki
C. Olympios
/ Cardiologist, Coordinator Director, Cardiology Dept, "Thriasio" General Hospital of Elefsina, Athens
M. Panagiotou
/ Heart Surgeon, Director of Cardiovascular Surgery Dept, Athens Medical Center
K. Papadopoulos
/ Cardiologist, Transcatheter Heart Valves Department, HYGEIA Hospital, Athens
K. H. Papadopoulos
/ Cardiology, 1st Attending Physician, Cardiology Dept, Korgialenio - Benakio (Red Cross) GH, Athens
S. Papaioannou
/ MD,PhD, FESC, Cardiologist, PhD Aristotle University of Thessaloniki, Director of Cardiology Department, Navy Hospital of Athens
L. Papavasileiou
/ MD, PhD, Cardiologist - Electrophysiologist, Pacemaker and ICD Unit, HYGEIA, Athens
A. Patrianakos
/ Consultant Cardiologist, Cardiological Clinic, UGH Heraklio, Crete
S. Patsilinakos
/ Cardiologist, Coordinator Director, Cardiology Dept, Konstantopoulio General Hospital, Athens
G. Pattakos
/ Cardiac Surgeon, 2nd Dept of Cardiac Surgery, Associate Director, Dept of Transcatheter Heart Valves, "HYGEIA" Hospital
S. Pattakos
/ Cardiac Surgeon, Director, 2nd Cardiac Surgery Department, HYGEIA, Athens
K. Perreas
/ MD, PhD, FRCS C/Th, Cardiac Surgery, Deputy Director, 1st Dept of Cardiac Surgery, Onassis CSC, Athens
E. Petropoulou
/ MD, PHD, Cardiologist, Director of the Cardiac Clinic, ΜΕΤΡΟΠΟΛΙΤΑΝ General Hospital
A. Pipilis
/ Cardiologist, Director, 1st Cardiology Dept, HYGEIA, Athens
E. Pissimisis
/ Cardiologist, Coordinator Director, Cardiology Department,"Tzaneio"General Hospital of Piraeus, Athens
A. Pitsis
/ MD, FETCS, FESC, Cardiac Surgeon, Director of Cardiac Surgery Dept, "St. Luke's" Clinic, Thessaloniki
L. Poulimenos
/ MD, FESC, Cardiologist, "Asklepeio" General Hospital, Voula, Athens
S. Prapas
/ Cardiac Surgeon, Director of First Cardiac Surgery Dept, "Henry Dunant" Hospital Center, Athens, Vice Chancellor, World Society of Cardio-thoracic Surgeons & Chancellor, Euro-Asian Bridge Society, Greece
V. Pyrgakis
/ MD, FESC, FACC, Coordinator Director, Cardiology Dept, "G Gennimatas" State GH, Athens
A. Roubelakis
/ MD, PhD, FETCS, Cardiac Surgeon Director, Athens Medical Group, Robotics Specialist and Minimal Interventional Cardiac Surgery, Athens
D. Sionis
/ Cardiologist, Director Department of Interventional Cardiology, Sismanoglio-Amalia Flemig General Hospital, Athens
A. Spanos
/ Interventional Cardiologist, Coordinator Director, Cardiology Depts, Naval Hospital of Athens, Head Director, Medical Directorate HN, Athens, Greece
K. Spargias
/ MD, PhD, FESC, Interventional Cardiologist, Director, Transcatheter Heart Valves Department, HYGEIA Hospital, Athens
K. Spiliotopoulos
/ MD, PhD, FETCS, Attending Cardiothoracic Surgeon, B' Cardiac Surgery Dept, HYGEIA, Athens
G. Stavridis
/ Cardiac Surgeon, Chief of Cardiac Surgery Dept, Onassis Cardiac Surgery Centre, Athens, Greece
D. Tousoulis
/ Professor of Cardiology, Athens Medical School, Athens University, Director of 1st Cardiology University Department of Athens University
K. Triantafillou
/ MSc, FETCS, PhD, Cardiac Surgeon, Director of Surgical Sector, Chief Director, Cardiac Surgery Dept, Hippokration General Hospital, Athens
K. Triantafyllou
/ Consultant Interventional Cardiologist, G.H. "Evangelismos", Athens
G. Triantis
/ Interventional Cardiologist, Director, Sismanoglio – Amalia Flemig GH, Athens
A. Trikas
/ Cardiologist, PhD, Coordinator Director, Cardiology Clinic, "Elpis" GH, Athens Associate Professor of Medical School University of Athens
D. Tsiapras
/ Non Invasive Cardiology Specialist, Cardiology Department, Onassis Cardiac Surgery Center, Athens
G. Tsigas
/ M.D., Ph. D, Interventional cardiologist
D. Tsikaderis
/ MD, PhD, FESC, Interventional Cardiologist, Cardiovascular Laboratory, St. Luke's Hospital, Thessaloniki
C. Tsioufis
/ MD, FESC, FACC, Professor of Cardiology, 1st Cardiology Dept, University of Athens, Hippokration General Hospital, Athens, President of Hellenic Cardiac Society, Greece, President of the European Society of Hypertension
S. Tzeis
/ MD, PhD, FESC, Director Cardiology Department, Mitera Hospital, Hygeia Group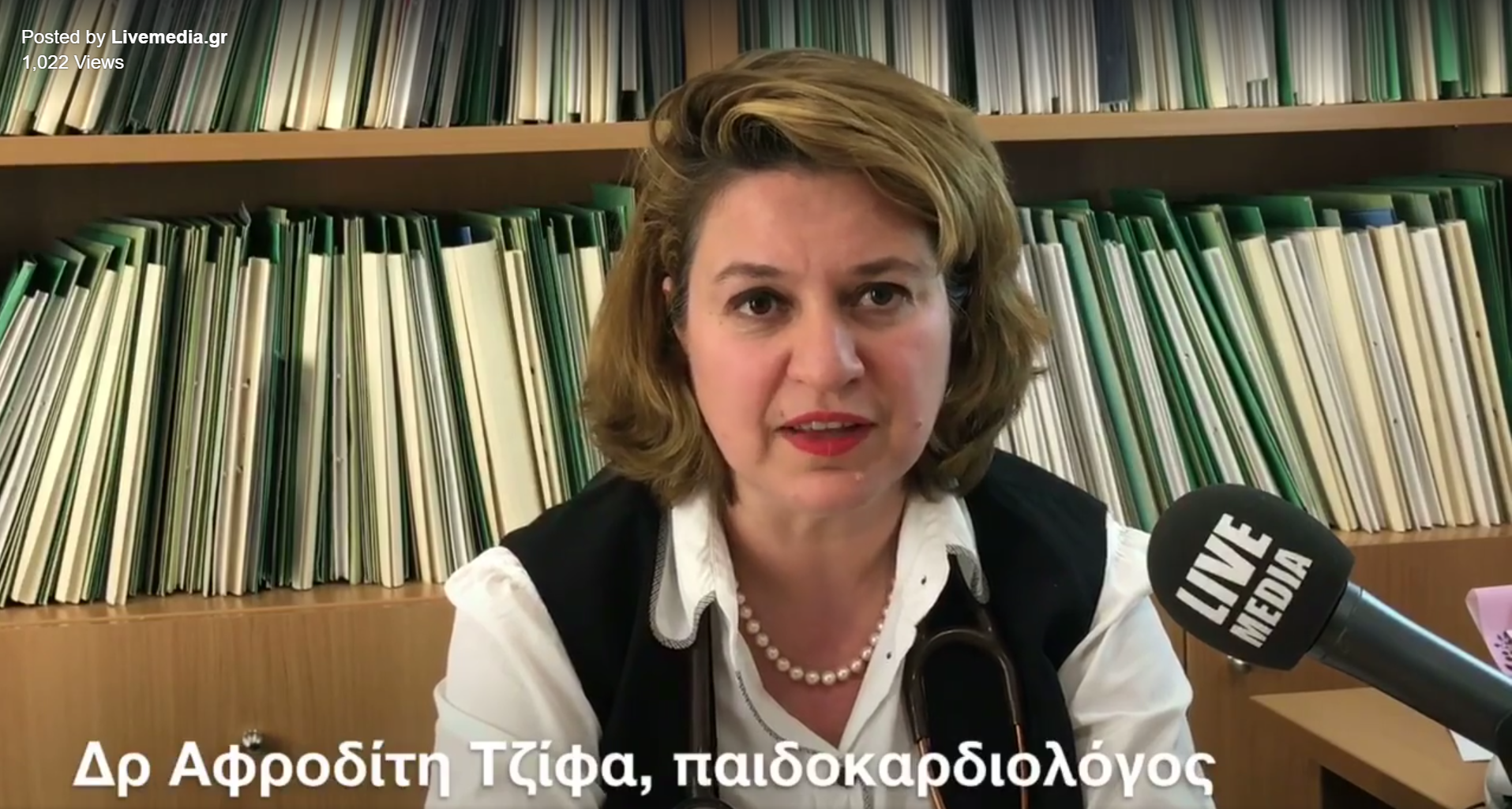 A. Tzifa
/ Paediatric and GUCH Cardiologist, Director, Paediatric and Adult Congenital Heart Disease Dpt, Mitera Hospital, Hygeia Group
A. Tzikas
/ MD, PhD, FESC, Interventional Cardiologist, 1st Cardiology Dept, AHEPA GUH, & Interbalkan European Medical Center, Thessaloniki
N. Van Mieghem
/ MD, Interventional Cardiologist, Department of Interventional Cardiology, Thoraxcenter, Erasmus University Medical Center, Rotterdam, the Netherlands
P. Vardas
/ Professor of Cardiology, University of Crete, University Hospital of Iraklio, Chairman of Heart Sector HYGEIA Hospitals Groups, President of the European Society of Cardiology (2012-2014), Visiting Professor of Imperial College, London
M. Vavuranakis
/ FESC, FACC, FSCAI, Professor of Cardiology, Athens University, Cardiology Dept, General Hospital "SOTIRIA" Athens, Adjunct Professor, Ohio State University, USA
J. Velianou
/ Structural and Interventional Cardiology, Hamilton Health Sciences, Associate Professor, McMaster University, Hamilton, Ontario, Canada
V. Voudris
/ Cardiologist, Chairman of Cardiology, Director of Cardiology Division Hemodynamic Studies & Interventional Cardiology Department, Onassis Cardiac Syrgery Center, Athens
A. Zacharoulis
/ Interventional Cardiologist, Consultant, 2nd Cardiology University Department, Attikon General University Hospital, Athens
I. Zarifis
/ Cardiologist, Coordinator Director of Cardiology Dept, "G. Papanikolaou" GH, Thessaloniki, Greece
M. Οto
/ MD,FESC,FACC,FHRS,FISHNE Professor of Cardiology Chairman, Department of Cardiology MHG, Memorial Ankara Hospital Ankara-Turkey
03 May Banquet Hall, MAICC
09:00 - 11:00
TAVI Session I – TAVR Technology in a Rapidly-Evolving Era
Chairpersons: I. Goudevenos, J. Kanakakis, D. Sionis, P. Vardas
09:45 - 10:00
Rapid Deployment Surgical Valves with Minimally invasive techniques. Can they compete with TAVR?
P. Dedeilias
10:00 - 10:15
TAVR for low-risk patients with a self-expanding valve
N. Kleiman
Commentators: S. Karagiannis, G. Makos, A. Tzikas
11:30 - 13:30
TAVR Session II – TAVR on the Uprise. How do we deal with complex situations?
Chairpersons: M. Argiriou, S. Foussas, E. Pissimisis, C. Tsioufis
12:00 - 12:10
CT Imaging of Bicuspid Aortic Valve Disease. Anatomic patterns favorable and unfavorable for TAVR and factors influencing device selection
A. Chalapas
12:10 - 12:20
TAVR will be the treatment of choice for bicuspid aortic valve disease in the future!
N. Van Mieghem
12:20 - 12:30
Most Bicuspid aortic valves (especially In younger low-risk patients) will remain in the surgical domain!
D. Angouras
12:50 - 13:00
TAVR in the patient with significant native or bioprosthetic mitral and/or tricuspid valve disease
M. Οto
Commentators: K. Aznaouridis, V. Androutsopoulou, S. Makrigiannis
14:00 - 15:45
TAVI Session III – TAVR dilemmas and complications
Chairpersons: D. Iliopoulos, G. Hahalis, V. Pyrgakis, S. Tzeis
14:45 - 15:00
Management of Coronary Disease in AS Patients: Important Treatment Considerations (When to consider CABG, timing of PCI and TAVR, and completeness of revascularization)
M. Οto
15:00 - 15:15
To crack or not to crack? The role for fracturing bioprosthetic valves during ViV procedures
M. Kasel
Commentators: I. Chlorogiannis, K. Dimitriadis, A. Zacharoulis
16:00 - 17:30
JOINT SESSON I
Aortic and Mitral Club
Chairpersons: S. Adamopoulos, C. Chrysohoou, G. Filippatos
16:15 - 16:28
Impact of valvular heart disease on the global burden of heart failure: Can transcatheter therapies make a difference?
A. Katsaros
16:28 - 16:40
Patient-prosthesis mismatch after transcatheter aortic valve replacement: prevalence and long-term impact
A. Patrianakos
17:04 - 17:16
Can Transcatheter Edge-to-Edge, direct or indirect Mitral Rings and Chords Match or Exceed Open Surgical Procedures?
S. Kodali
17:30 - 18:30
JOINT KEY LECTURES
Chairpersons: P. Nihoyannopoulos, P. Vardas
18:30 - 20:00
JOINT SESSION II
Mitral and Tricuspid Club
Chairpersons: G. Athanassopoulos, G. Giamouzis, A. Trikas
18:30 - 18:45
Exercise-stress echocardiography and effort intolerance in asymptomatic/symptomatic degenerative mitral regurgitation
D. Klettas
04 May Banquet Hall, MAICC
08:45 - 11:00
Mitral Session I – Complexities of Mitral Interventions
Chairpersons: L. Poulimenos, G. Stavridis, D. Tsiapras, M. Vavuranakis
08:45 - 09:00
Echocardiographic evaluation of the mitral valve. A guide to decision-making for transcatheter or surgical Repair / Replacement
M. Chrissoheris
09:00 - 09:15
Advanced Applications of CT Imaging for Transcatheter Mitral and Tricuspid Procedures
C. Mourmouris
09:30 - 09:45
Results of valve-in-MAC (mitral annular calcification) procedures. Assess and plan carefully!
J. Velianou
10:00 - 10:15
You can't beat safety and simplicity: Edge to edge therapies will be the dominant strategy for mitral repair
F. Maisano
11:00 - 13:00
TAVI Session IV – Avoiding Pitfalls
Chairpersons: D. Alexopoulos, I. Ikonomidis, A. Manginas, A. Pipilis
11:15 - 11:30
Mechanisms of coronary obstruction during and after TAVR: prediction, prevention, and treatment
N. Van Mieghem
11:45 - 12:00
Guidelines and classification of bioprothetic TAVR and SAVR dysfunction and failure. Latest data on incidence, clinical impact and valve durability
A. Manginas
12:00 - 12:15
TAVR plus/minus AFib and/or CAD. Pharmacotherapy considerations, clinical trials and practical clinical recommendations
R. Mehran
12:15 - 12:30
The Spectrum of Leaflet Thrombosis in Bioprosthetic Aortic Valves - Prevalence, Clinical Consequences, and Practical Management Strategies
G. Dangas
Commentators: N. Kadoglou, A. Roubelakis, G. Tsigas
13:30 - 15:00
TAVR Session V – Dealing with a "gray area". Crucial questions and answers
Chairpersons: S. Konstantinidis, F. Mitropoulos, C. Olympios, K. Triantafillou
13:30 - 13:45
How far should we push the borderline transfemoral access for TAVR? Techniques, equipment, and likelihood of glory versus gory
K. Spargias
13:45 - 14:00
To split or not to split? The role of BASILICA and LAMPOON as adjuvant procedures during TAVR and TMVR
J. Velianou
Commentators: P. Kalyvas , D. Ketikoglou, K. H. Papadopoulos
15:00 - 16:15
TAVR Session VI – Looking to the future. Innovative ideas in a rapidly-evolving domain
Chairpersons: G. Bompotis, A. Dimas, C. Kotoulas, S. Patsilinakos
15:10 - 15:20
The ACCURATE Neo TAVR system. Program Update, clinical data, patient selection and future vision
A. Holzamer
15:20 - 15:30
The PORTICO TAVR system. Program Update, clinical data, patient selection and future vision
L. Michalis
15:40 - 15:50
What to expect in the near future from the market leaders? The Sapien family and the CENTERA self-expandable valve. Program Update, clinical data and patient selection
M. Kasel
Commentators: D. Damaskos, C. Moldovan, L. Poulimenos
16:30 - 17:30
JOINT SESSION
SPECIAL LECTURES
Chairpersons: A. Dagre, S. Pattakos
17:30 - 19:00
Mitral and Tricuspid Session II – Looking to the future
Chairpersons: N. Georgakopoulos, S. Kyrzopoulos, G. Makos, A. Patrianakos
17:30 - 17:45
Advanced echocardiography assessment of the tricuspid valve and right ventricular function and implications for transcatheter treatment
M. Chrissoheris
17:45 - 18:00
Technical tips and tricks to successful perform transseptal puncture for Mitraclip and TMVR procedures
K. Spargias
18:15 - 18:30
Transcatheter valve-in-valve and valve-in-ring in the tricuspid position. Patient selection, tips and tricks and outcomes
A. Tzifa
Commentators: A. Manolis, S. Kounas, G. Moustogiannis
19:00 - 21:00
My best and/or my worst Structural Procedure of the year
Chairpersons: N. Kafkas, A. Spanos, G. Triantis
Commentators: N. Koutsogiannis, M. Panagiotou, S. Papaioannou